January 4, 2017
The Pomsky puppy quickly took over the list of hottest breeds of 2016 and it's looking like 2017 will be no different! And that's why the Pomsky puppy is going to be the subject of our next breed blog, the first of the New Year! Petland Racine always has Pomsky puppies for sale!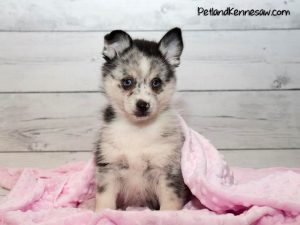 What is a Pomsky puppy?
So, this precious little breed is actually derived from a cross between a Siberian Husky and a Pomeranian. The cross usually consists of a female Siberian Husky and a male Pomeranian. This is a way to avoid any complications that may occur from a Pomeranian carrying puppies from a larger breed of dog. Pomskies tend to be smaller than Siberian Huskies, but not a toy sized like the Pomeranian.
What do Pomsky puppies look like?
Well, as with any hybrid or designer breed puppy, you are getting genetics from two separate breeds of dog and the puppy can exhibit a wide range of characteristics. Some Pomsky puppies will have the typical black and white coloring of the Husky, but sometimes they take the all-over color of the Pomeranian. Some will have blue eyes, some green or in rare cases, they might have two different color eyes! Because both the Husky and the Pomeranian have thick coats, you will almost certainly have a fluffy puppy. Neither parents of the Pomsky breed are hypo-allergenic, so if anyone in your family has dander related allergies, the Pomsky might not be the breed for you.
What is the temperament of the Pomsky puppy?
Considering that both of the parents of this breed are active and playful, it only makes sense that the Pomsky will also be an energetic member of the family! Siberian Huskies are also highly intelligent and loving. While the Pomeranian breed tends to be very protective of their owners and make for wonderful guard dogs. A Pomsky puppy is so unique in that they could display any combination of these traits and be a perfect addition to many different types of families!
---
Interested in finding out more about the Pomsky puppies for sale in our store?
Check out our available puppies page to see all of our precious Pomsky puppies for sale!