January 15, 2017
There are probably very few people that haven't encountered a Labrador Retriever at least once in their lives. Many people have had these lovable companions over the years or had friends and family have them. There are many reasons why the Labrador has been the "top dog" of America's most popular breeds for 24 consecutive years and we are going into just a few of them below! Petland Racine always has Lab puppies for sale!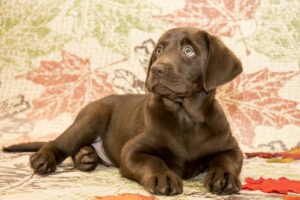 The Labrador Retriever is actually from Newfoundland (And the Newfoundland is from Labrador!)
I know, I know! It sounds crazy, but the Lab originated from Newfoundland as a fishing dog and was originally known as St. John's dogs, after the capital city. These dogs were bred to be the ideal water dogs. They have a water-resistant double coat that provides insulation, while the short fur doesn't cause water to drag them down. They even have webbed toes to help when swimming in deep water! And while nowadays, they are more known for hunting, they have an interesting beginning!
Showing the love to man's best friend!
The Labrador Retriever was officially recognized by the AKC in 1917 and currently competes in the sporting group. Their colors come in black, chocolate and yellow. They are athletic and highly intelligent, which make them excel at sporting events and hunting trips alike. They are also fiercely loyal and easy to train, thus making them very popular as guide dogs and family companions! As we said above, they have been the number one most popular breed in America for the last 24 consecutive years and show no signs of dropping down!
The Lab is a breed of many talents
It is said that the Lab makes up about 70% of breeds used as guide dogs, therapy dogs and search and rescue working dogs. This is often because of their sweet nature and strong work ethic. Even as a family dog, their inherent need to please their owners and get along with children and other animals is part of what makes them so popular. They are also great for more active families and do very well outside in all kinds of weather. There are so many reasons to love the Labrador Retriever!
Well, this concludes our breed blog on America's most loved dog! We hope you enjoyed it!
Interesting in finding out more about the Lab puppies we have for sale in our store? Check out our available puppies page to see all of our wonderful Lab puppies for sale!